SALON ETHOS
We believe in luxury you can afford. A visit to Ben Forrest Your Hairdresser should be a relaxing, stress-free experience so that you leave the salon looking and feeling great. Our stylists are handpicked for their passion for life and they are just as enthusiastic about hair – we believe in having a great work/life balance as happy workers equals happy hair! Our experienced, family orientated stylists have a range of specialisms so we will do our best to cater to every customer. From a cut and blow-dry, to creating a unique look for a special occasion, we will try and make you look and feel like a million dollars.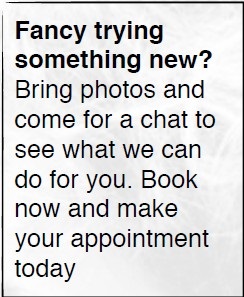 We encourage each stylist to keep up to date with industry standards and current trends and add to their experience with ongoing training so we are prepared for your requests. Our apprentices are currently training to become qualified hairdressers and we support them by holding weekly training sessions. If you would like to be a model then please contact the salon.
The salon's hair products are handpicked by Ben for their performance, quality and affordability so everyone can recreate salon-quality hair in the comfort of their own home.  
*National Hairdressing Federation Photographic Stylist Finalist 2017 – Female Fashion Collection* "It was a real honour to be a part of a fantastic competition run by an amazing organisation such as the NHF. To be shortlisted amongst brilliant talent was an amazing experience." Ben Forrest Bold Beliefs. We believe in transparency and we are happy to give more information and details about any of the styles you see on the website. Every hairstyle image on the website has been created by Ben Forrest stylists in the salon on customers or for competitions. Competition hairstyles differ to in salon and take longer to create and have higher costs in terms of creation and maintenance. Please ask in the salon for more details.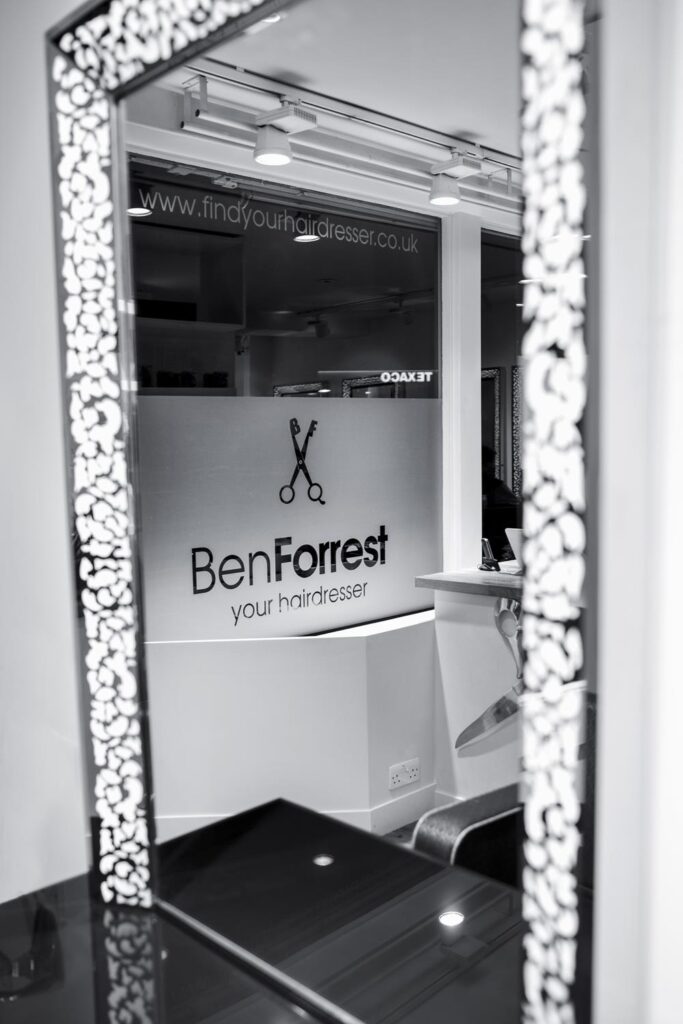 Giving Back
Just as the local community comes and supports us – we believe that it is just as important to give back. We love to give our time and effort for local causes.
Haircut giveaways
Twice a year we donate hairdressing vouchers to local schools and charities to help them fundraise. Approximately 28 vouchers are given to be raffled or auctioned especially at key fundraising times at summer and Christmas. Each voucher is worth over £50 and all money raised from these vouchers directly help the local community.
Work experience club
We have developed a work experience club to assist young adults with special needs or learning difficulties to take their first step into the work place and gain confidence. The placements are for 4 hours a week and form a vital step for young adults ready to engage with the working world. The placements last as long as the young adult needs and have been a beneficial experience for our 2 previous work experience adults as well as ourselves. Thank you too, Molly! "The work experience club has been such a rewarding experience for us. It's been fantastic seeing our young apprentices grow in confidence and leave ready for the next step in life" Ben Forrest.
The Ben Forrest Hair and Beauty Salon Kingston
The Ben Forrest Hair salon page
Hair and Beauty Salon Kingston by Ben Forrest
Ben Forrest for Hair and Beauty in Kingston
The Ben Forrest Hair and Beauty Salon Kingston